You can easily make your desktop or laptop computer operate very fast by using MSI Afterburner overclocking software. With this software, you can increase the speed of your MSI Graphics Processing Unit (GPU) by delivering more electrical voltage to it. This software enhances multiple characteristics of processor performance.
It increases the voltage and clock frequency of your Graphics Processing Unit (GPU). MSI Afterburner also empowers you to control the Rotations Per Minute (RPMs) of your computer's fan. Doing so enables you to create more speed while keeping your processor cool. This digital tool is versatile because it can be used on different GPU brands, for example, MSI, NVIDIA GeForce 500, and AMD Radeon HD 6000 graphics cards. Here are the features of MSI Afterburner and how you can download it today!
Characteristics of MSI Afterburner Overclocking Software
Versatility
You can use this software to overclock your Graphics Processing Unit (GPU), which is an additional chip for handling graphical rendering in your laptop or desktop PC. It comes already embedded in the motherboards of high-end computers to create crisp, fluid, and transparent images on your screen.
MSI Afterburner can be used to overclock multiple Graphics Processing Unit (GPU) at the same time. This is essential if you are using a gaming computer where there is a massive data load upon your motherboard and its components. Doing so results in smoother transitions when playing games and renders clearer, high-resolution images during editing.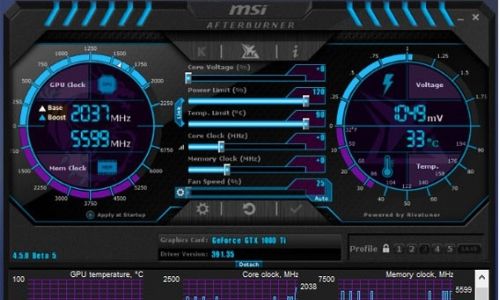 OC Scanner
The RTX 20 series are some of the most powerful, modern GPUs that you can find in the market. MSI Afterburner can be used to overclock these GPUs and boost their performance to give you higher operational speeds. To achieve this, the software is equipped with an OC Scanner that automatically identifies the highest and most stable overclock settings for your RTX 20 Series GPU. This gives you a higher rate of Frames Per Second (FPS), resulting in smoother graphics during intense gameplay.
Hardware Monitor
Overclocking involves running higher voltages through your motherboard and target processors. Despite equipping you with much higher speeds, it causes these components to run hot. If left unchecked, they can melt or catch fire and pose a risk to you. Thankfully, MSI Afterburner is equipped with a hardware monitor that provides information about the status of critical components within your computer. It displays voltage levels, temperature, clock speed, and usage statistics. With this feature, you can overlay the most important statistics on your screen while playing games for thorough component management.
Customized fan profiles
It is essential to provide a cool environment to achieve the best speed from your GPU. To this effect, MSi Afterburner provides a fan management module that displays the temperature of your components and Rotations Per Minute (RPM) of your fan. You can increase or decrease the fan speed depending on component temperature through the module. A speed curve graph provides visual guidance for this process. After achieving a perfect balance, you can save it as a custom profile for more natural activation in the future.
Kombustor Benchmarking
Built upon the popular Furmark software platform, Kombustor is a fantastic benchmarking tool that is contained within MSI Afterburner. It enables you to push your GPU to its processing limit while testing for thermal performance and component stability. You can achieve the ultimate potential of your processors using the Kombustor Benchmarking tool.
On-screen display during gameplay
It is essential to keep an eye on your most critical components while playing resource-heavy games. MSI Afterburner accomplishes this by providing an on-screen display that gives you information about your overclock settings and the condition of your ingredients. It informs you about the usage statistics, clock speed, and temperature of your CPU, GPU, and RAM.
Predator video capture
You may want to record gameplay or the effects of your overclock settings for future reference. MSI Afterburner comes bundled with a Predator video capture tool for this specific purpose. It can capture videos in multiple formats, including.AVI.WMV, and the H.264 codec. With the Predator video capture tool, every pixel is captured in perfect clarity!
Android compatibility
A brand new feature of MSI Afterburner is Android compatibility. The software has been adapted for Android OS so that you can control your GPU overclock settings directly from your smartphone.
Safety precautions
Overclocking your computer is a sensitive procedure that requires you to make settings carefully. If you make settings that exceed the capability of your components, it can lead to overheating, fire, or malfunction. MSI Afterburner is equipped with a built-in safety control system that prevents unsafe overclocking through warnings.
How to download MSI Afterburner
You can get MSi Afterburner for your computer and boost the processing speed in this way:
Use your browser to navigate to the MSI Afterburner official website.
After arrival, navigate to the Downloads Web page.
You will view the latest version of this software, which is MSI Afterburner 4.6.2, that was last updated on November 6th, 2019. Some statistics about it will be presented, including its file size of 48.4MB and its Freeware status.
You will be presented with download options showing varied versions of this software that are compatible with different operating systems, including Windows and Android. The software tool is also available in a text known as MSI Afterburner Remote Server. This is the version to pick if you would like to monitor its performance from your smartphone.
Pick the version that you desire and click on it to download.
MSI Afterburner is Freeware, so you don't have to pay anything to download it into your computer.
Wait for the download to complete and install the software in your machine.
Overall
Overclocking is a great way to get the best performance from your computer system without having to buy new components or a new machine. MSI Afterburner is excellent software to help you overclock your GPUs and speed up your system. This handy software tool is free, and you don't have to pay anything to use it. By following our guidelines above, you can download and install MSI Afterburner for blistering fast computer speeds now!