The most valuable asset that you have in your life. You should make every effort to protect your health and wellbeing at all times. We live in a dangerous world because crimes such as mugging, robbery, carjacking, rape, and assault are our reality. You can fall victim to these crimes at any time, so it is necessary to have the upper hand over any attacker that you could encounter. How can you achieve this strategic advantage over them? Simply invest in self-defense gadgets. What is this gadget, and how can you get one? Find out below.
Why you should carry self-defense gadget
There are numerous reasons why you should carry personal security gadgets at all times, and they include:
When you have a self-defense device, you're much more confident to approach life. For example, if you enjoy jogging in the park every morning or evening, a self-defense gadget ensures that you'll be safe from muggers, robbers and rapists. You'll have a weapon to protect yourself in case any unfortunate incident occurs. This gives you the confidence to jog with resolve.
It is often said that if something can go wrong, it will go wrong; therefore, you need to protect yourself from any eventuality that could emerge regarding your safety. A self-defense device provides this protection at a high level. These self-defense gadgets contain blades, burning sprays, corrosive gels, high decibel sounds, reflectors and even compasses. As such, you are heavily protected at all times when you have a self-defense device in hand.
Sometimes, the best protection that you can get in case of an emergency is the presence of other people. Modern self-defense devices are capable of performing mass alerts. This is where they inform the people in the vicinity of your state of distress so that they can offer a helping hand. These devices perform this task through a high decibel whistle.
Top 20 Self-Defense Gadgets Reviews
VIPERTEK VTS Rechargeable Flashlight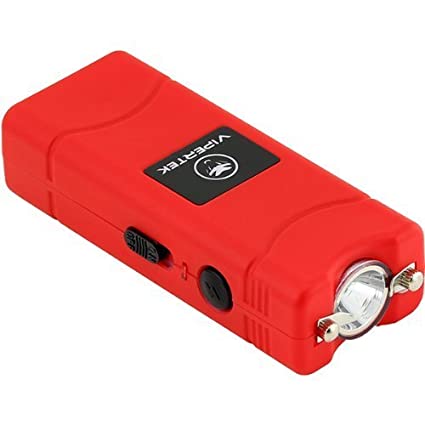 This stun gun is compact but packs a mighty current. That's enough to stop an attacker. Available in pink, the VIPERTEK VTS Rechargeable Flashlight protects you through electrical immobilization and intimidation. The stun gun delivers a high voltage electrical shock that completely disrupts the nerve signals from the brain to the voluntary muscles. This causes the attacker to lose muscle control, balance and become completely disoriented.
The VIPERTEK VTS Rechargeable Flashlight contains the power of a full-size stun gun in a much smaller package. This self-defense device also has a bright LED light for sufficient illumination. It can also be recharged easily in case of depletion. To keep it firmly in hand during high-stress moments, the stun gun has a non-slip rubber coating. It is your answer for self-protection at all times.
HyperWhistle Self-Defense Whistle
Believe it or not, this is the world's loudest whistle! Capable of achieving 142 decibels of sound, the HyperWhistle has a very loud range of sound delivery. For this reason, it is often used by professional coaches, referees, teachers, fitness instructors, lifeguards, survival professionals, and for self-defense.
This unit has a 2-mile range and is naturally buoyant, so it is perfect for swimmers, surfers, and divers. You can rest assured of maximum personal health because this fantastic gadget has an all-weather, anti-microbial cover. Best of all, the HyperWhistle achieves 3D sound delivery because of its tri-frequency design!
Atomic Bear Tactical Pen
You'll never find a more versatile self-defense device than the Atomic Bear Tactical Pen because it has multiple features in a pocket-friendly size. This fantastic pen has a glass-breaker, LED light, bottle opener, and ballpoint pen. It is explicitly built as a part of police SWAT gear so you can be sure of its special effects.
The Atomic Bear Tactical Pen is also fully functional for writing because it comes with three black ink refills and four sets of batteries! This fantastic self-defense unit is built using aircraft-grade aluminum that can puncture a car window in 2 seconds! As a result, it is a perfect self-defense unit for those who place a high priority on compact size.
WEREWOLVES Multitool Bracelet

This self-defense and survival unit combines beauty, functionality, and deadly force into one neat package. The WEREWOLVES Multitool Bracelet contains a stainless steel 1.5-inch blade within its buckle, and the bracelet acts as a high grip handle. All its parts are water-resistant and can survive rain, kayaking, camping, and high-intensity workouts.
As for durability, you never have to worry about it breaking because this fantastic bracelet is made of seven cord parachute rope, so it is built to last forever. Best of all, this bracelet can be adjusted to fit your wrist. This means that one size fits all and delivers the personal protection you need in urban areas as well as the great outdoors!
Avenger Defense Portable Stun Gun

Personal security is always of top priority, and the Avenger Defense Portable Stun Gun can guarantee this. The portable device contains a high voltage electrical shock, an LED light, and a dedicated carrying case as well. Upon activation, this excellent stun gun produces a high decibel sound while also delivering a debilitating shock to your attacker.
It is powerful enough to penetrate through thick clothing, and its finger-shaped grip guarantees that you'll have maximum control over the gadget during use. Best of all, you can activate the shock and LED light at the same time for protection and mass alert in case you are attacked.
Guard Dog Instafire Xtreme Pepper Spray
One of the most effective deterrents that you can use against an attacker is some pepper spray because it immobilizes them immediately. The Guard Dog Instafire Xtreme Pepper Spray packs a powerful chemical punch in a compact package for you to use in protecting yourself. This little self-defense device fits in your hand perfectly, and it completely sweatproof. Not only does it provide a chemical deterrent, but it also has knuckle defense protection in case you need to throw a punch.

The Guard Dog Instafire Xtreme Pepper Spray has a twist lock system that prevents accidental activation, which is standard in the best self-defense gadgets. In addition to that, it can shoot up to 16 feet away, ensuring that you can disable an attacker long before they get close to you. While using this self-defense unit, your comfort is guaranteed because it has breathable fabric and is ultimately weather resistant.
Little Viper Pepper Spray Bracelet
When you need a lightweight, covert pepper spray self-defense unit, the Little Viper Pepper Spray Bracelet is your best bet. Available in 5 beautiful colors, this unique self-defense bracelet is an excellent unit for you. It can shoot a 10% OC solution of pepper spray up to 3 feet away from you.
The bracelet is perfect for joggers, students as well as night shift workers because it is easily concealable and can be deployed with minimal effort. The unit produces between 3 and 6 bursts of pepper spray per canister, assuring your safety as you wear it. Thanks to its low weight of less than 1 ounce, no one will even notice you've got it on!
VIPERTEK VTS Heavy Duty Stun Gun
When you need to deliver a powerful jolt of a shock to your attacker, the VIPERTEK VTS Heavy Duty Stun Gun is your self defense device of choice. It is compact and designed like a flashlight. In this way, it can deliver a protective shock while also illuminating the path ahead. This stun gun is available in a pink color that is distinct and fashionable at the same time.
You never have to worry about this stun gun getting damaged because it is made of aircraft-grade type III aluminum. In addition to that, it has a 100,000 hour LED bulb that will last for a long time. Best of all, it is fully rechargeable so you'll never have to worry about it cutting out on you!
Original Defense Siren
Sound is a fantastic deterrence against an attacker and the Original Defense Siren affirms this fact. Easy to carry around on your keychain, this siren is a great way to create a mass alert in case you are attacked. The siren can produce a sound at 130db, which is enough to be heard at a 1-mile radius.
This security alarm can be used efficiently by kids, women and the elderly, so it is a versatile unit. Not only does it produce an easily recognizable sound, but it also has an LED light for illumination so it can prevent the abduction of your loved one.
VIPERTEK-VTS 53 Billion Stun Gun

Modern stun guns need to produce as much power as possible to deter your attacker and the VIPERTEK-VTS 53 Billion Stun Gun delivers this perfectly. This stun gun provides a debilitating shock to the attacker giving you a chance to flee. It has an ergonomic handle for a tight, natural grip. This stun gun also has an LED Flashlight, which can illuminate the path ahead for you. With this fantastic unit, you'll never have to worry about batteries because it is fully rechargeable. Protect yourself with the VIPERTEK-VTS 53 Billion Stun Gun.
SABRE Pepper Spray Runners Clip
Always strive to ensure your safety as you run or jog in the park or around your block using the SABRE Pepper Spray Runners Clip. This pepper spray is developed to perform at the level of police anti-riot deterrents. In this way, the SABRE Pepper Spray Runners Clip provides professional levels of protection. It produces a gel instead of a spray, and this goes a long way in delivering a debilitating dose to your attacker. In addition to that, this self defense device can emit a 120 decibel sound to alert any people around you about your emergency. It is available in pink and black so you've got a chance to pick that which matches your personality. Additionally, it has a high grip strap for your convenience.
Barnett Baseball Bat
Made of high strength aluminium, the Barnett Baseball Bat is a sure deterrent to intruders within your home. It is made of the 6061 variety of this metal so the bat is light yet super-strong. Handling this baseball bat is very easy because of its rubber grip. These characteristics make it also highly applicable for competitive play in the minor and major leagues of baseball. The Barnett Baseball Bat is ideal for both beginners and experienced players alike. Best of all, you can keep this great model of self-defence bats at home to protect yourself from anyone who might try to break in.
BlingSting Safety Kit
Not only is the BlingSting Safety Kit magnificent to behold, it is also highly effective as a car escape and self defense device. The kit contains an automotive escape window breaker hammer and a seat belt cutter. It also includes a pepper spray keychain and a personal security alarm. All these facilities are finished in sparkling rose gold, making this one of the top women safety gadgets. The pepper spray has a lock-in trigger to prevent any accidental discharge and can shoot up to 8 to 13 feet away from you. Both the personal alarm and pepper spray are attached to a key chain hook for easy access. Together, these coolest self-defense gadgets ensure that your security is guaranteed.
KOSIN Safe Sound Personal Alarm
With an aesthetically pleasing pebble-like appearance, the KOSIN Safe Sound Personal Alarm is a fantastic self defense gadget. Upon activation, it produces up to 140 decibels (dB) of sound. The KOSIN Safe Sound Personal Alarm comes as a package of 5 personal security gadgets that can be distributed among high-risk individuals such as children and the elderly. Each alarm is available in numerous colors such as blue, gold, black, silver and purple. The unit is fitted with a high capacity battery that lasts for a long time. To maximize your security, it also has an LED light with which you can Illinois the path ahead. Thanks to these features, the KOSIN Safe Sound Personal Alarm is an ideal personal security device.
True Utility Emergency Cash Capsule
It is highly necessary to have some money with you at all times because you never know when you'll be in an emergency. The True Utility Emergency Cash Capsule is a waterproof container that is designed to hold cash securely for you. The unit has a special clip inside which you can wrap some money. The True Utility Emergency Cash Capsule also has a ring so you can attach it to the rest of your keys for easy access. The device is constructed using dark chrome aircraft-grade aluminum reinforced with a waterproof Neoprene O-ring. It is the ultimate storage device for your emergency stash of cash.
A25 Protection Paracord Bracelet
Survival is for the fittest and the A25 Protection Paracord Bracelet ensures that you are among this winning group. This bracelet contains 8 facilities to help you survive any event in an urban or outdoor setting. It has a knife, glass breaker, fire starter and survival whistle. It also has a compass, signal mirror as well as fishing hook and string. All these facilities are packaged into an easy to wear the bracelet. The A25 Protection Paracord Bracelet is very easy to clasp and unclasp using the compass. In addition to that, the bracelet is built to last because its knife is stainless steel while the strap is made of 7 strands of parachute cord. This is the ultimate survival bracelet and is a must-have for outdoor enthusiasts.
Outdoor Edge Paraclaw Survival Bracelet
Whenever you're in the wilderness, it pays to have a strategy to survive no matter what may occur and the Outdoor Edge Paraclaw Survival Bracelet provides this opportunity. This gorgeous bracelet is made of Paracord and has a 1.5 inch knife blade embedded in its buckle. The blade is made of stainless steel finished in Black Stone color. To ensure it is tucked away securely, this blade fits into a glass-nylon sheath that also functions as the buckle. You can get this bracelet in colors such as black and woodland camo for a touch of personality.
KOSIN SafeSound Personal Alarm
In case you should find yourself in an emergency, the best thing to do is always to get as much help as quickly as possible and the KOSIN SafeSound Personal Alarm is your ally in this endeavor. Capable of producing up to 140 decibels of sound, this personal alarm is capable of alerting everyone in a 300-meter radius that you're in trouble. The alarm comes in a pack of 6 units in different colors. Even better, each alarm has a key ring for easy attachment to your main bunch of keys resulting in easy access. The alarms can be assigned to your children, the elderly and your spouse too. In this way, the KOSIN SafeSound Personal Alarm is a comprehensive alert solution.
Guard Dog Electra Lipstick Stun Gun
Personal security never looked so good! The Guard Dog Electra Lipstick Stun Gun is a beautiful, compact stun gun for ladies that is shaped like a tube of lipstick. The unit is also fitted with an LED flashlight that provides illumination on demand making this one of the top women safety gadgets. Upon closer inspection, the Guard Dog Electra Lipstick Stun Gun features some stun gun prongs, a button for the LED light, another for the stun gun, and a handy keychain ring too! In this way, this lovely and compact stun gun is perfect for your protection.
Hacoon Personal Alarm
Sound is a powerful deterrent to physical attacks, so the Hacoon Personal Alarm is your perfect partner in security. The unit has a loud, 130-decibel siren song that can be activated in case of an attack. The device is highly ergonomic and has a keychain ring attached to it. In this way, it can be assigned to the elderly, children and your spouse as well. Not only does the Hacoon Personal Alarm contain a siren, it also has an LED light. This way, you can activate the siren and the LED light at the same time for maximum mass awareness. These characteristics make this alarm a perfect companion for you in urban and outdoor areas.
AZYC Tactical Pen
Personal security has been compressed into a tiny package with the AZYC Tactical Pen. This handy little unit contains up to 4 functions in 1 box because it is a ballpoint pen, a DNA collector, a glass breaker and a personal defense attack device. Interestingly, this pen can break through metal, glass and ceramic as well. It has 6 refillable ink cartridges that retain the standard function of this Tactical Pen. By providing these functions altogether, the AZYC Tactical Pen is your one-stop device for your security.
You should always place high priority on your security because life is your most valuable asset. There are numerous devices that you can use to protect yourself, and the 20 coolest self defense gadgets are described above. We've delved into the best self defense gadgets unique characteristics and explained how you could protect yourself using these high-tech self defense units. While some produce sound for protection, others are more offensive by delivering high voltage shocks on your attacker. Invest in a cool self defense device to keep yourself and your family safe at all times!