Recently, Apple launched its new device, "iPhone 11 Pro". Their tagline was "By innovation only". They launched iPhone 11 Pro along with two other devices. ( Apple iPhone 11 and iPhone 11 Pro Max).
iPhone 11 Pro Specifications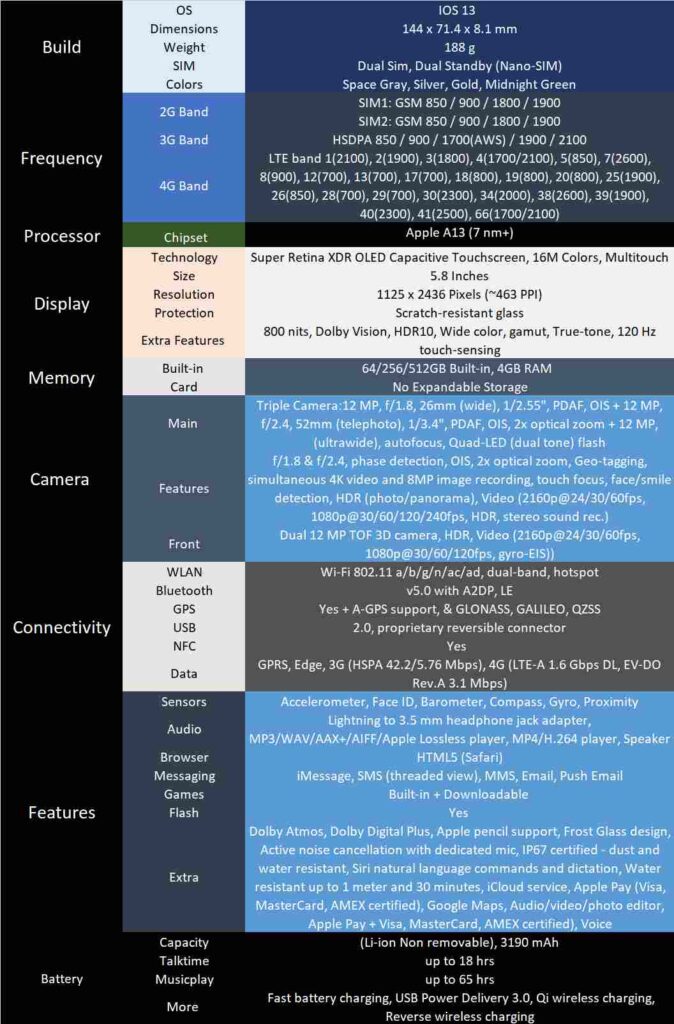 Let's be honest, there isn't that much innovation that Apple has brought us. This is apple's most powerful device to this date. With improved camera quality and performance, it's the best Apple can afford. The innovation is on the camera side though. The new cameras are able to do what prior iPhones weren't able to do.
Well, I'm trying not to bash anyone, but Apple has been criticized and I've done it too. This is because they always stick to the previous generation's body and just don't bring much innovation to the table for us. They have this weird habit of sticking to last year's design. So here's the tree. iPhone 11 Pro looks like last year's XS Max which looked like an iPhone X. Therefore, where is the innovation Apple?
The front side of the device looks like XS Max. However, they have changed the rear side of the device. It is all thanks to the new matte effect that now the camera bump is pretty much visible.
Apple has been boasting about the internal side of the device though. The A13 Fusion chip and camera are the key upgrades this time. This new chipset will bring heavy performance for the users once again.
Let's start right off with the camera and innovation on the camera side for iPhone 11 Pro.
iPhone 11 Pro Camera
The camera is where this device shines and probably most people will be interested in the camera department. Everyone has been waiting for this. It was heavily rumored too. Therefore, it is one of the most powerful key points of the device.
It is rocking a triple camera setup on the back. Each camera has a 12 MP sensor. There is a standard 12 MegaPixel camera, a 12 MegaPixel ultra-wide and a 12 MegaPixel telephoto lens.
Moreover, it has a huge camera bump, which in my opinion looks bad. It's 2019 and camera bumps should be stopped. But I can't blame Apple because the device needed a camera bump. As it has three cameras with a flash, it needed the bump. By having the bump, users can enjoy a slim device coupled with an awesome camera.
However, it would've been better not to have a camera bump at all. Moreover, we are used to these bumps created by Apple, so it's nothing new. Even though the camera is awesome, we still need a better design. So this was my little rant about the design. Now let's move with the camera quality.
Quality of the camera
The overall camera quality of the iPhone 11 Pro is awesome. The photos are vibrant and sharp as ever. The camera quality looks awesome even in very bright situations. The portrait feature is back too. Moreover, it's better than ever. There's even a high exposure mode so that you can create more exposure to your liking while taking pictures with other people.
It has been upgraded so that the photos can look more studio-like and better in overall conditions. It has a more impressive and improved mask which can help the device in the foreground and background effects. Apple has been boasting about its camera quality. Can it compete with the devices like Pixel or Samsung? iPhone 11 Pro will have a feature of "Deep Fusion" in future updates where the phone will take eight photos even before you press the shutter button. Impressive isn't it?
With the use of Neural Engine and their new A13 Bionic chip, AR and AI photography is next level now.
What about Low Light Performance?
The low light performance has been dramatically improved. The images that we were shoed were quite impressive and it shows that Apple has given some big thoughts in the camera department. This was on both iPhone 11 and iPhone 11 pro. Low light performance is quite good. Zooming in on the new night mode images, we saw that there are quite a lot of details in the picture. It looks good both indoors and outdoors. The good news is that this feature is automatic.
AI has come a long way. It automatically detects the scene and activates it according to the situation. Activating a night mode is the worst. It's a good thing that it's automatic now. More testing will be done in the camera department too.
Moreover, the ultra-wide camera is cool too. We can now see a wider range of images and with the 12 MP camera, it's really good. The iPhone 11 Pro will even be able to suggest to you if you can capture a better shot than what you've captured. This is taking things to the next level.
iPhone 11 Pro Design
Apple has always been repetitive in designing its phones. From iPhone 3 to 3GS and then 4 and 4S. 5 and 5s. Seeing this in the iPhone 11 Pro isn't that much of a surprise. Apple fans expected that Apple would bring a new design but it turned out to be a big disappointment. Apple just changed the camera bump that's all. Thanks to the three cameras now it's more visible.
If we take a look at history, this is the first time that Apple has stretched a design so far. The iPhone X changed into iPhone XS and then iPhone XS turned into iPhone 11 and 11 Pro. If I ever get to meet Tim Cook, I'd ask him, "Just Why?".
A new design can bring many changes to a smartphone's life. It would've been nicer to see a new reinforced design by Apple. The front of the display has 5.8 inches of screen that is interfered with the notch. The top and bottom have two grilles. One of which is the speaker and the other one is for the sake of design. The phone does look good though.
We cannot say that it's exactly identical to last year's model but it is to some extent. But what about the colors? It comes with Space Grey, Silver, Gold, and Midnight Green which is a new one.
Battery and the iOS 13
iPhone 11 Pro comes with Apple's latest "iOS 13". This brings many new features to the phone itself. Older iOS devices will also get this update via a software update. The performance is something that Apple has been boasting about a lot. The phone will be an absolute beast in gaming due to the A13 Bionic chip. It is indeed impressive the phone runs with a resolution of 60 FPS. Therefore, games and stuff will be a breeze to do.
Apple has increased the size of its battery. iPhone 11 pro has a 3500 mAh battery. On stage, it was confirmed that the phone will last four hours longer than their XS Max. We are hoping that it would be great.
iPhone 11 Pro release date and pricing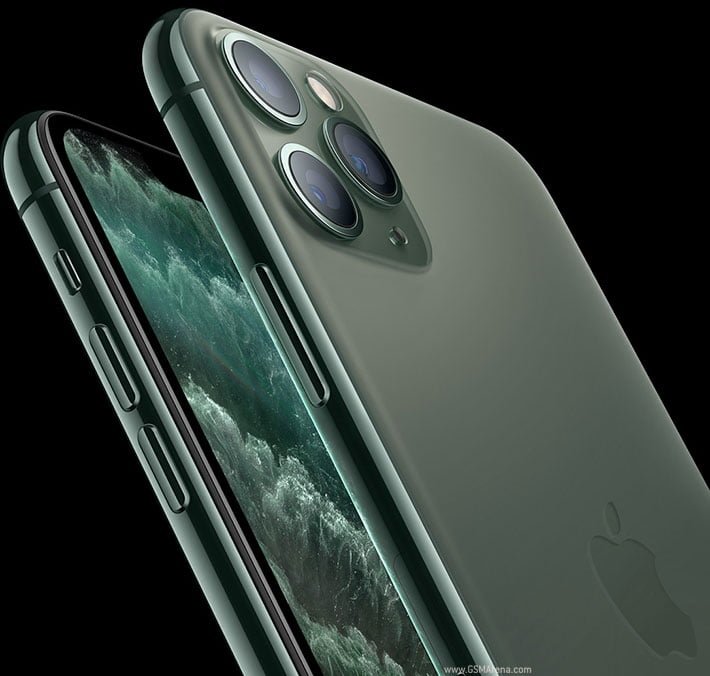 Launch Date: September 10
Pre-order Date: September 13
Release Date: 20
iPhone 11 Pro is expensive. The price starts at $999 which is quite a lot. And that is just the 64 GB model. For the UK and Australia, the price has increased further. The phone comes in three storage sizes. 64 GB which is priced at $999. 256 GB which is for $1,149 and then the 512 GB model which comes at the price of $1,349.
Surprisingly there is no 128 GB which most people would've preferred. I just don't get their approach here. As Note 10 and Note 10 plus have 1TB option, Apple might suffer some criticism here too. But in Apple's opinion, these are the best storage options that are set for most people.
Final Thoughts
We've seen Apple and its technology taking the world by storm. However, something feels missing. I don't feel like the iPhone 11 Pro is as big of innovation as Apple has made. It's not a huge jump forward by any means.